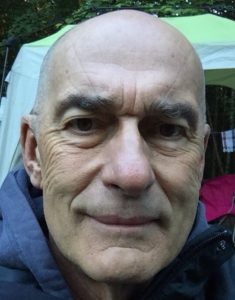 John Guzlowski's writing appears in Garrison Keillor's Writer's Almanac, Rattle, Ontario Review, North American Review, and many other journals.
His poems and personal essays about his Polish parents' experiences as slave laborers in Nazi Germany and refugees making a life for themselves in Chicago after the war appear in his memoir Echoes of Tattered Tongues (Aquila Polonica Press).  It was the recipient of the 2017 Benjamin Franklin Poetry Award and the Eric Hoffer Foundation's Montaigne Award.
He is also the author of three mystery novels set in a neighborhood of Polish WWII survivors in Chicago, Suitcase Charlie, Little Altar Boy, and Murdertown. His novel Retreat — a love story, about two German lovers separated by war, was recently published by Kasva Press.