resources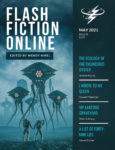 13 Fundamental Tips for Writing Flash Fiction. Because writing a story in 500-1000 words ain't no easy task!
Ralan.com is a must-see for writers to find out what's going on in magazine publishing, online or print. There, writers can find out who's accepting submissions presently and what they're looking for. Readers might not know about it, but it's handy for them, too. They may find publications of interest to them that they'd never […]
Become a 2022 Super Subscriber!
If you're a fan of our bold, brief, and beautiful fiction, we hope you'll consider purchasing a 2022 SUPER SUBSCRIPTION. You'll get the satisfaction of knowing that you're helping to publish amazing stories by talented writers… plus you'll receive the following benefits (details listed below)
12 monthly issues (+ a vote in our first FFO Reader Awards!)
bonus content from our authors
live events on our Discord server
one FFO annual anthology
your choice of one ebook from an author or  staff member
entry to our $100 gift card giveaway
Support Flash Fiction Online
Flash Fiction Online is a free online magazine that pays professional rates. So how do we make that happen? It's due to the generosity of readers like you.
Here are some ways you can help:
Sign up to become a monthly donor. Read more…
Subscribe to FFO.
Never miss an issue! E-reader formats delivered to your inbox. Available from WeightlessBooks.com
Buy our issues & anthologies.
Each of our issues and anthologies are available in convenient e-reader formats (epub/mobi/pdf). Available from the Flash Fiction Online Store, WeightlessBooks, and Amazon.
Donate.
Consider a one-time gift that fits your budget.
Advertise with us.
Have a product, service, or website our readers might enjoy? Ad space available on the website and in our e-reader issues. Sponsored posts opportunities are also available. Learn more…
Spread the word.
Love one of our stories or articles? Share it with a friend!